Creation of a Global Base for Advanced Metals
–Next Generation Tatara Project-
In November 2018, the project called "Creation of a Global Base for Advanced Metals -Next Generation TATARA Project-" was adopted by the Cabinet Office for "Subsidy for Regional University / Regional Industry Creation" which Shimane prefecture applied for. In the project, Shimane University and the specialty metal industry in the region will research and develop new materials together, mixing their accumulated knowledge and technique. Through the research and development, we also plan to provide young people with opportunities to study and work in Shimane, which will contribute to the regional industry creation.
Dr. Koji Sato, former executive officer of Hitachi Metals, Ltd., was appointed as Project Manager and is cooperating closely with the prefectural governor to oversee the project as the person responsible for progress management.
Shimane University has made significant achievements in analysis techniques at the atomic level of metal materials for many years. Based on the achievements, we are determined to play a leading role in the industry-government-academia collaboration for the project and pursue the goal of "creation of a shining regional university".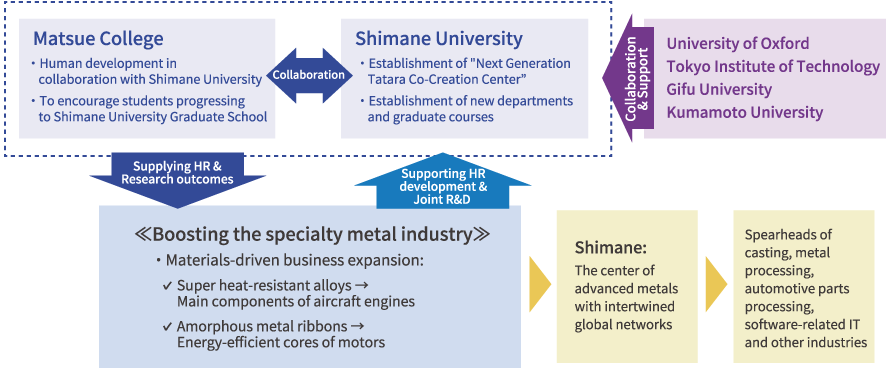 NEXTA, Next Generation Tatara Co-Creation Centre at Shimane University
"Next Generation Tatara Co-Creation Centre" was established as a joint research institute at Shimane University to play a key role in research and educational activities of the project. Professor Roger Reed, the University of Oxford in the UK leads NEXTA as Director. In the Centre, we focus on developing specialized human resources in the metal material field through the world's most advanced research such as alloy designs with the computational approach. Furthermore, we will propel the development in collaboration with other institutes such as the National Institute of Technology, Matsue College and other universities, creating an environment that enables students to learn both theory and practice on metal materials.
Origin of the Name and the Logo Design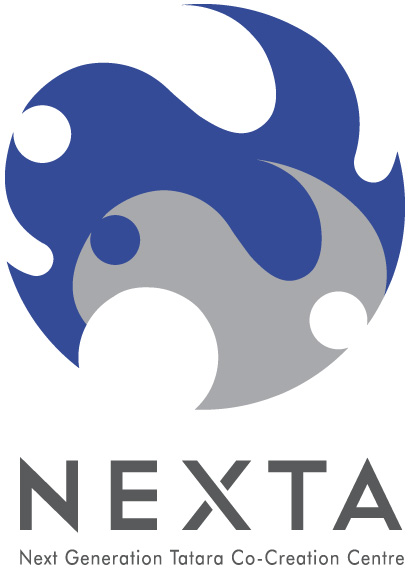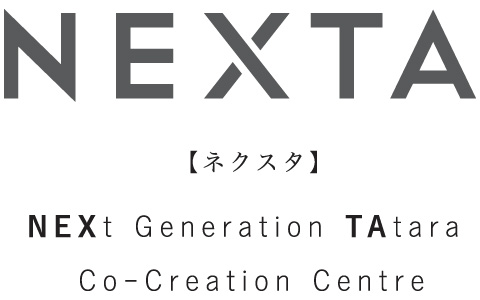 "Next Generation Tatara Co-Creation Centre" was named after the traditional "Tatara iron-making" which has been passed down in Shimane area and still producing "Tamahagane" (steel made from iron sand), the material used in Japanese swords, in the hope of manufacturing advanced products successfully with the entire local community. The name of the Centre is abbreviated as "NEXTA", which also denotes a fusion of innovation and tradition.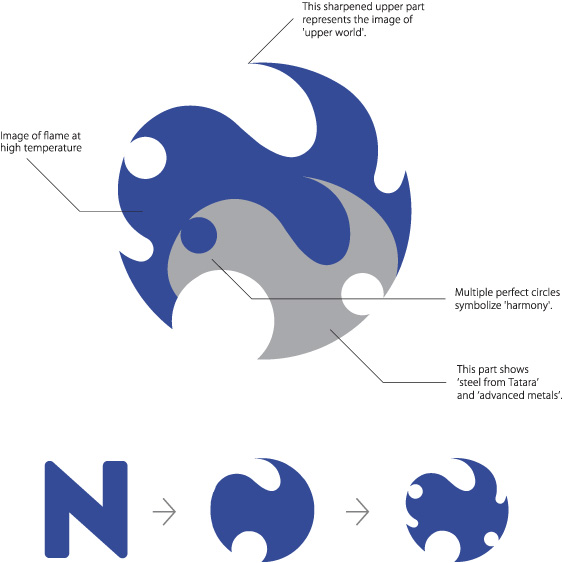 The logo design is derived from the initial letter "N" to show the flame that represents the Tatara ironmaking and metals, and the "blue flame" shows that the Centre will advance in the metal field, taking over the Tatara flame.